Bonded Rubber Services by Rubber Turf Safety Surfacing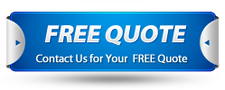 Some playground facilities prefer having a look that resembles loose-fill products. However, most of them will still want to have the low-maintenance and easy features that come with the bonded one-piece surfaces. If you are one of them, you may discover that bonded rubber is one of the best choices that you have for playground surfacing. Remember you need a surfacing product that is highly functional and safe for the kids. Bonded rubber closely resembles the poured-in-place rubber surfacing material. The only difference is that bonded rubber tends to have particles that are much bigger in size.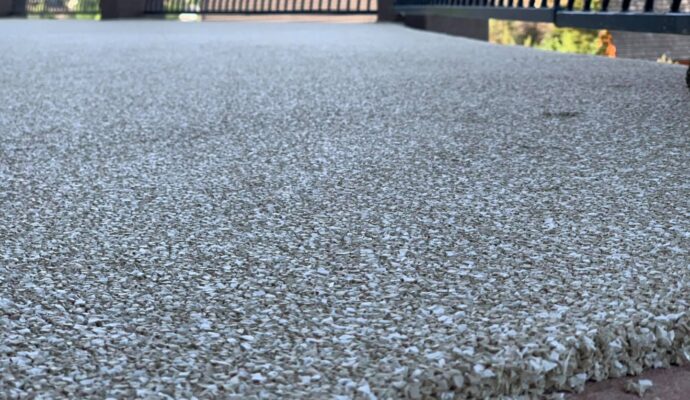 Rubber Turf Safety Surfacing mixes the bonded rubber on-site and then pours it around and underneath the play structure. It is a great way to make sure that the kids land safely as they continue enjoying their play. What our team does is to cap this mixture with the right base layer. The preparation of bonded rubber surfaces requires minimal labor because of the easy installation. It tells you why bonded rubber is among the cheapest options for playground surfacing material. When you use it, you can be sure that it will not leave a hole in your pocket. The bonder rubber material is a perfect alternative to the traditionally poured rubber surfaces. It delivers a similar highly accessible single-piece surface but uses pieces that are larger than the poured rubber. The experts use a single-layer system to pour it on the site. This gives your playground a natural look. It is a perfect surfacing material for outdoor facilities. The material drains well, is porous, and dries very quickly. Therefore, there is no worry at all even during the rainy days. Children can still be able to enjoy their outdoor activities after a heavy downpour.
Additional Product Info
You can get bonded rubber in 15 natural colors which include 7 solid colors and 8 color blends. The rubber particle is the same as the loose-fill rubber and hence you can't use it in creating inlaid graphic designs. In most cases, it is found on trails and in certain landscaping applications. Some of the colors resemble natural materials and wood fiber. Because this material is usually bonded together, it does not require the same maintenance and upkeep. The bonded rubber surfaces won't blow away or even migrate from the playing area. These properties make bonded rubber a great option for playground surfaces.
Top Benefits of the Bonded Rubber Material
Preparing the material requires minimal labor

It meets the standards of ADA

Low maintenance

Excellent shock absorption or impact

Looks like loose fill but it is bonded together
Bonded rubber surfaces are great options for playgrounds. It gives the playground the natural appearance of wood mulch together with the low maintenance and safety of a unitary surface. To create these surfaces, Rubber Turf Safety Surfacing combines a binding agent with the shredded rubber mulch and then trowels smoothly by hand. This results in one of the best surfaces for playgrounds. That is why we list it among the options that we offer to our clients.
Safety
Like the other unitary surfaces, this material receives excellent grades because of its safety characteristics. Rubber has natural properties that offer superior absorption of impact. Typically, it allows the playground surfaces to meet the ASTM critical falling height requirements very easily. Bonded rubber also maintains a uniform impact resistance throughout the whole playground. Here are the other benefits of using bonded rubber as a surfacing material:
Doesn't hide harmful objects

Cold and high humidity temperatures don't reduce its effectiveness

Textured surface assists with slip-resistance

Does not get on the mouth, eyes, or hair

Can't be displaced or thrown

Doesn't support microbial growth like bacteria, mildew, and mold

Can't be scattered on walkways as this can create slip hazards
Cleanliness
The bonded rubber surface is very clean overall. It can be difficult to wash off or sweep the textured surface but it is still cleaner than the loose filling materials. Most of the debris on bonded rubber can be swept away or blown very easily. However, you need to inspect this surface regularly and remove the debris manually.
Maintenance and Care
Bonded rubber is among the easiest playground materials to take care of. Unlike the loose-fill materials, you don't have to clean or rake them. The rubber material has a long lifespan and is incredibly durable. The random-textured surface hides any minor imperfections and damages better in comparison to the poured-in-place rubber surfaces.
ADA Compliance and Accessibility
Bonded rubber typically complies with the requirements of ADA for mobility equipment like wheelchairs because it is highly accessible. The only challenge with bonded rubber is that the surfaces are not completely level because of the randomness of the shredded rubber.
Aesthetics and Design
Bonded rubber provides a high level of flexibility in the design. Therefore, you can use it to surface the playground as well as the pathways through the playground. The appearance of this material is more natural than the poured-in-place rubber because it has mulch-like pieces that are dyed in various colors. If you need a more natural mulch-like look that has low maintenance requirements, Rubber Turf Safety Surfacing will help you install bonded rubber.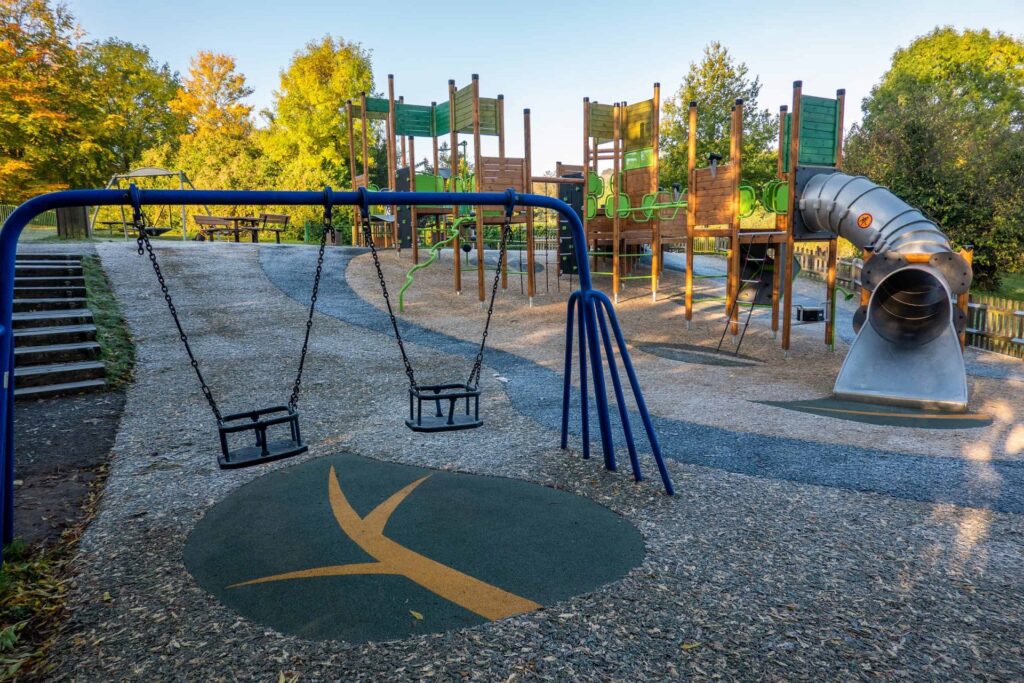 Installation Costs
When installing bonded rubber surfaces, there is a high level of manual methods and an extensive preparation of the site. This makes bonded rubber to be one of the most expensive surfaces. However, the cost is worth it especially if you look at the long-term benefits of these surfaces. Besides, these surfaces can only be installed by professional and experienced playground surfacing contractors because they have to prepare the subsurface, mix up the binding agents, and then hand trowels the rubber material to the required height. After installing the surface, these experts also need to cure it well before children can begin to use it for playing.
All these things increase the installation costs of bonded rubber further. However, given the low maintenance requirements of bonded rubber and its lifetime costs, it becomes less expensive than the other safety surfacing materials. The material requires a higher initial investment than the loose material but it truly gives you the value of your money in the long run. Rubber Turf Safety Surfacing professionals are better placed to install these surfaces for you.
Below is our list of additional services:
We're a nationwide safety surfacing company. Click below to find our closest contractor near you
---
We at Rubber Turf Safety Surfacing offer the best safety surfacing services throughout the state of Florida. Below are the list of Florida cities we service:
---